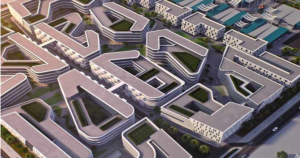 DUBAI – H.H. Sheikh Ahmed bin Saeed Al Maktoum, Chairman of the 
Dubai Airport Freezone Authority
 (DAFZA), witnessed the launch of 'Dubai CommerCity,' an AED 2.7-billion, 2.1-million square feet joint venture between DAFZA and wasl 
Asset Management Group
, in the Umm Ramool area.
Dubai CommerCity, the first free zone dedicated to e-commerce in the MENA region, is strategically intended to promote Dubai's position as a leading platform for international e-commerce and to support economic diversification and smart transformation strategies.
The project will accelerate the growth of the e-commerce market which is expected to reach USD 20 billion in 2020 in the GCC countries. It will provide an environment that stimulates creativity and attracts more direct foreign investments in line with Dubai Plan 2021 which aims to create a unique and sustainable economy based on innovation.
H.H. Sheikh Ahmed bin Saeed Al Maktoum expressed his confidence that the joint venture will add a new dimension to Dubai's commercial activity and will help attract more direct foreign investments to the emirate. The project is led by the inspiring vision of His Highness Sheikh Mohammed bin Rashid Al Maktoum, UAE Vice President and Prime Minister and Ruler of Dubai, to establish a unique and sustainable economy based on growth, innovation, diversification, and competitiveness.
These are features of the post-oil stage which are in line with Dubai Plan 2021's goal of making Dubai first globally in ease of doing business as well as a preferred investment destination by 2021.His Highness emphasized that free zones enjoy flexible and adaptable legislations and business systems – a unique feature that empowers economic clusters and accelerates their growth. He added that free zones also play strategic roles locally and regionally in enhancing global trade routes and supply chains. DAFZA, he noted, has all the elements and factors to achieve success, pointing out that for the last two decades its remarkable achievements have earned the confidence of the international business community and its leaders.
Dubai CommerCity has exceptional competitive advantages that make it one of the most attractive free zones for foreign direct investment in the regional markets, and a unique gateway for Dubai and the UAE to access a promising international economic sector.
The new free zone is strategically located near the Dubai International Airport, well-connected to major local and national highways. It provides direct access for e-commerce stakeholders in the MENA and South Asia regions. It offers world-class cargo and logistics services and an integrated and sophisticated infrastructure with easy access to land and seaports, enabling swift and efficient distribution and delivery of services which are essential to competing in the world of e-commerce as well as minimizing supply chain costs.
Dr. Mohammed Al Zarooni, Director General of DAFZA, said: "Dubai CommerCity will enhance the role of e-commerce as a key driver of Dubai's sustainable economy. DAFZA will apply its leading experiences and services based on comprehensive studies on the future of e-commerce in the MENA region. Dubai CommerCity complements the expansion plans and achievements led by DAFZA aimed at attracting foreign direct investments to Dubai, driven by its vision, 'The free zone that goes beyond,' in cooperation with wasl Asset Management Group with which we have a successful partnership. Through Dubai CommerCity, we aim to play an organizational, operational and knowledge-based role that will contribute to the building of a new world-class free zone and the creation of a unified platform for government, administrative, customs and logistics services that meet the needs of the e-commerce sector, in response to the vision of the wise leadership of achieving sustainable development".
Hesham Abdulla Al Qassim, CEO of wasl Asset Management Group, commented: "We look forward to partnering with DAFZA to translate the vision of our wise leadership to make Dubai one of the best investment destinations in the world. Our joint venture supports the national economic diversification strategy and the creation of a sustainable economy based on innovation and competitiveness. The new free zone is strategically located near to Dubai International Airport, one of the busiest airports in the world, offering attractive investment opportunities to reputed e-commerce companies that are seeking to establish a presence and expand in the MENA and South Asia regions." Dubai CommerCity spans a total area of 427,000 square meters inclusive of office spaces and logistics units covering 207,000 square meters; a total leasable area of 176,000 square meters; and infrastructure and parking areas over 220,000 square meters, with 4,000 parking slots for its customers. The free zone is divided into three clusters designed in a modern and innovative way to strategically achieve environmental and investment sustainability. State-of-the-art technologies are implemented to provide investors with quality experiences.
The Business Cluster includes 13 office buildings with a total leasable area of 108,000 square meters and a total built-up area of 136,000 square meters. It features modern buildings and landscapes within the interior and exterior areas to encourage customers to adopt a healthy and active approach while doing business and to make work routines interesting and youthful. The cluster is 'Leadership in Energy and Environmental Design (LEED)' program certified as well.
The Logistics Cluster, on the other hand, consists of 84 logistic units with a total built-up area of 71,000 square meters and a leasable area of 68,000 square meters equipped with the latest technologies to meet the needs of logistics services providers and customers. The main feature of the cluster is its rooftop PVC solar panels for generating clean energy.
Finally, The Social Cluster is the heart of Dubai CommerCity, with its art galleries, a range of luxury restaurants and cafés, and vibrant facilities that meet the expectations of e-commerce companies wishing to establish regional headquarters in Dubai.
The project, which will be implemented in two phases, where 50% will be completed at each stage is intended to be a comprehensive and modern system that supports the e-commerce sector and meets the current and future needs of logistics, electronic payments, IT solutions, customer services, and other related businesses. The project will be an ideal opportunity for major regional and international manufacturers to store their goods, products and spare parts in state-of-the-art, fully-equipped, technology-enabled warehouses, to be shipped later to the local markets in record time via e-commerce.
This is an encouraging environment for business and a set of investment advantages that serve the interests of the foreign investors and enhance its positive role in the growth of the national economy, such as the innovative Customer Relationship Management (CRM) system, which works to shorten time and providing fast service, full foreign ownership rights and other smart non-traditional competitive advantages.
Dubai CommerCity has a clear-cut plan to attract more foreign direct investments (FDI) through an integrated portfolio of products and services according to the highest international standards. It is intended to be a coherent environment that embraces, nurtures and develops the potentials of youths and promotes entrepreneurship through a modern ecosystem that facilitates the conversion of creative ideas into reality. The project will help foreign investors establish a presence and expand in this field and allow young innovators and entrepreneurs to pursue promising opportunities within the e-commerce sector, which serves as an ideal platform for establishing start-ups and sophisticated projects in line with efforts to make Dubai the smartest city in the world.
The new free zone will also drive steadily growing private investment activities supporting the region's start-ups which have already exceeded USD 870 million, especially as most start-ups are involved in e-commerce, IT and Internet-based services, of which the UAE has the largest share in the region. Over the next five years, the e-commerce sector is projected to account for 10 percent of the Emirate of Dubai's retail sales, which are in turn expected to reach AED 200 billion by the end of 2017.
Dubai CommerCity is fully committed to supporting the goal of the wise leadership to reduce the UAE carbon footprint by 25 percent by 2030 through the adoption of non-traditional methods in accordance with global standards for a sustainable environment and a green economy; reducing electricity consumption by using solar energy; and lowering water wastage by 40 percent through the treatment of polluted water and the collection and reuse of stormwater. Strategies also include the reduction of pollution and implementation of global environmental standards related to the construction of light industrial units and buildings as well as the use of environmentally friendly building materials and recycled resources.
The free zone is committed to modernizing and updating the regional e-commerce legislative system. It will benefit from the Memorandum of Understanding (MoU) signed between DAFZA and the Arab Federation for e-Commerce, a specialized organization under the Arab League's Council of Arab Economic Unity, stipulating cooperation with Arab governments in developing and harmonizing legislation and laws designed to facilitate the practice of e-commerce and drive the growth of the digital economy. <readmore>
© Copyright Emirates News Agency (WAM) 2017.
Staff Writer, WAM (Emirates News Agency)