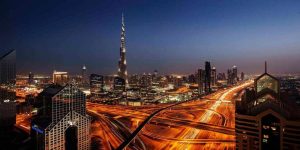 The 
UAE
 has declared itself an "open global laboratory" to transform the concepts of the fourth industrial revolution into an international shared agenda, said 
Mohammad Abdullah Al Gergawi
, Minister of Cabinet Affairs and the Future.
In an opening address at the World Economic Forum's second annual meeting of the Global Future Councils in Dubai on Saturday, Al Gergawi said the fourth industrial revolution has created unprecedented changes based on Artificial Intelligence, machines and robots, which will double the growth of the global economy and increase the workforce skills capacity up to 40 per cent by 2035. In addition, the Internet of Things (IoT) will be contributing $10-15 trillion to the global economy.
The plenary session was also attended by Sheikh Maktoum bin Mohammed bin Rashid Al Maktoum, Deputy Ruler of Dubai.
The forum is bringing together 700 experts from future-facing technologies and disciplines with focus on future of work, human health, people and mobility, infrastructure investment, decarbonization, information ubiquity, governance, ethics and values in the fourth industrial revolution.
He said the UAE has realised the importance of the fourth industrial revolution and decided to form a council and also appointed a minister of Artificial Intelligence. In addition, the government is also looking at the food and water security as well as necessary skills for the future of the citizens.
"The technology is helping spreading the knowledge and become a platform for the future. This knowledge created unprecedented opportunities for individuals and provide new services for citizens. It also allows increasing efficiency of the government in different areas," he said.
"Virtual education, healthcare and quality education will be improving the lives of the people. Amidst the changes taking place in the world, changes that effect as global citizen, we should be able to turn them into opportunities. We have to change to feel responsible for the next generation," Al Gergawi added.
Klaus Schwab, founder and executive chairman, World Economic Forum, praised the partnership between Dubai and World Economic Forum, saying it's the biggest brainstorming gathering for the future.
"I can't think a better place than this. This country continues to inspire for its dedication to embrace supposed forces of technology to share future in a constructive way."
Al Gergawi said the future will be fast paced and this is considered to be transitional phase ahead of fourth industrial revolution. This revolution is a very important phase for the development of the world and data will be a key component of the revolution.
Privahini Bradoo, co-founder and CEO, BlueOak Resources Inc, said the enhanced functionalities of advance material are defining the fourth industrial revolution and the environment needed for their development. Materials are now able to interact with their surroundings to improve and adapt their performance.
She cited those materials respond to light and other forms of electromagnetic waves or heat, translating signals into behaviour. Certain materials can biodegrade at a specified rate, reducing waste or healing tissues as implants.
Bob Goodson, CEO and founder, Quid Inc, said robots are now found everywhere and they are increasingly becoming social without bumping into objects and people. In fact there are some robots embedded with sensors and motors that can jump over the obstacles.
<readmore> 
Copyright © 2017 Khaleej Times. All Rights Reserved. Provided by SyndiGate Media Inc. (Syndigate.info).